You can be part of an ongoing performance group with...
Cody Qualls and the Brand New Ancients!
Have you ever had the experience…
Shows
… of being on stage as part of a show and once it was all over, thought to yourself, "That was so much fun, I can't believe it's over!  I want to do that again"? 
Have you ever wanted to be on stage so you can experience how it feels? 
Well, now you can! 
Cody Qualls brought his band, The Brand New Ancients, together in November 2021 for the release of his new holiday EP, The Inquiry.  We had such a great time, we are making this an ongoing performance opportunity! 
Enroll for this new performance op to be part of this new group we call Together Choir and FAMJam dance troupe that is on track to be performing throughout the year with Cody Qualls and The Brand New Ancients! 
Check out the details for this special May 2022 performance!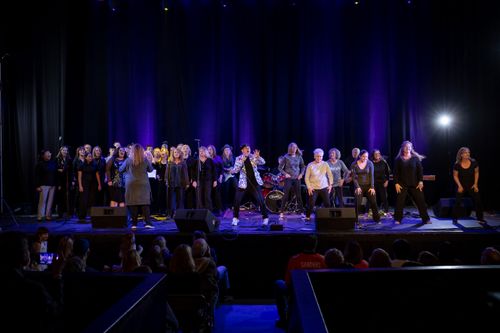 Ages: 16 years of age and older 
Registration fee for BDT Stage 
BDT Stage  $27* non-refundable  (*Registration fee does not include ticket for venue entry to BDT stage.  Ticket to BDT Stage includes dinner)
Registration fee includes: 
Rehearsal materials 
Two fun, focused rehearsal led by Cody Qualls as the director. 
First rehearsal will be Saturday, May 7, 2022  1:00pm-3:00pm 
Second rehearsal on Thursday, May 12, 2022 7:30pm-9:00pm

Connect with other singers to perform on one of Colorado's exceptional stages.
All information pertaining to participation will be provided as details are made available to us.  
Rehearsal Location:
     Cairn Church, 1700 Stonehenge Dr, Lafayette, CO 80026
Attending at least one rehearsal  is mandatory 
NOTE: Must be registered to participate
FAMJam Dance Troupe
If you would like to be part of our FAMJam dance troupe at these performances, registration in FAMJam is required to participate.  We are celebrating two years of dance/fitness fun with a fantastic special:  2 months for just $22!   
Registration in FAMJam is required to participate in the performance as a dancer, so Click the button below to register!